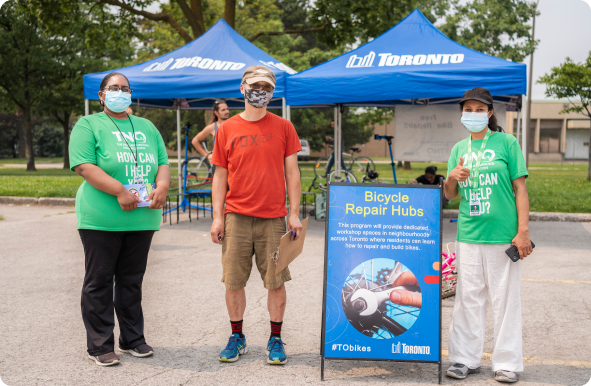 The Gateway Bike Hub began with a simple idea. What if we could take discarded, abandoned and used bikes, fix them up and give them to people who need them? What impacts would that have on us as an urban community, and our experience of the city?
It means that we would build strong connections to the community, reduce waste, enable active lifestyles and self-sufficient transportation, all while making our city more liveable and sustainable.
Together with the City of Toronto, under its Community Reduce and Reuse Program, and our community partners The Neighbourhood Organization, Flemingdon Health Centre, and Evergreen, we created the Hub. Its purpose is to provide repaired and refurbished bikes to people in the community while empowering at-risk youth through the creation of our Earn-a-Bike program.
Since 2019, the Hub has had a big impact on the community:
over 3,000 bikes refurbished and repaired
over 400 volunteers trained in bike repair
over over 800 bikes given away in our community.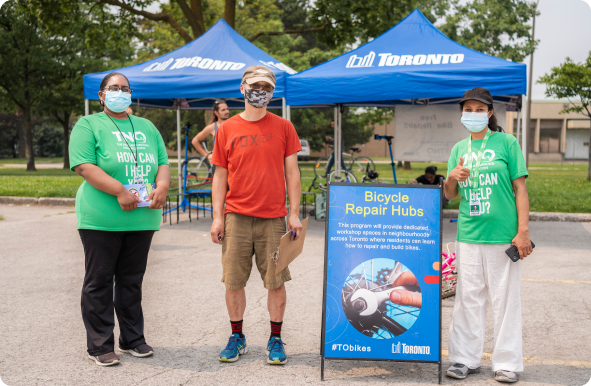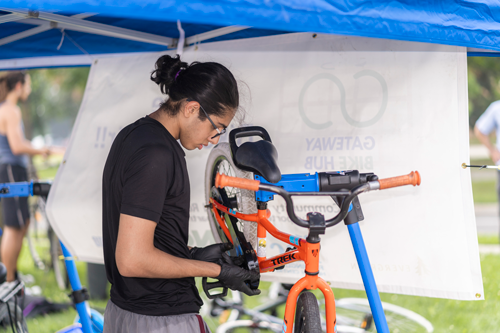 Why a Hub?
We're located on Gateway Drive, and connect into one of the world's largest urban ravine systems. The Hub is a launching point for all kinds of fun and adventure in 11,000 hectares of nature.
There is so much to explore and do in the ravines. That's why Evergreen, the City of Toronto, the Toronto and Region Conservation Authority, and others are creating a continuous 65-kilometre multi-use trail circuit called the Loop Trail.
Where do the bikes come from?
Many places. Toronto Police Services gives us unclaimed bikes that were stolen or discarded. Toronto Waste Management gives us the bikes they find abandoned throughout the city. We also have many people come by to donate their old bikes.
Then, our team of volunteers lovingly restore each one and see that it gets to a new rider. Thanks to all of our generous supporters, we've repaired and refurbished over 3,000 bikes. Find out how you can get involved.
Our partners
The Hub is here thanks to the generosity of our caring partners and supporters.
See the difference you can make
See how the Hub is making a positive change in Thorncliffe Park and Flemingdon Park neighbourhoods in Toronto.
Come see us in person at one of our upcoming events.